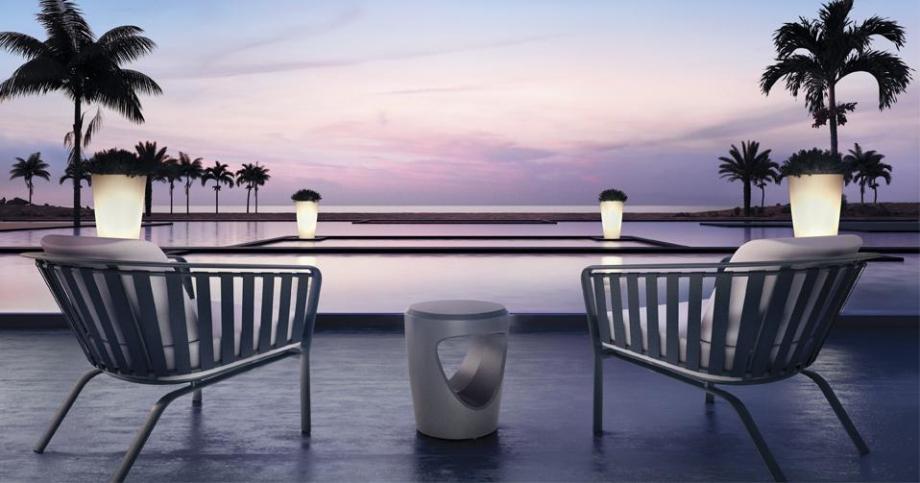 Irvine, Calif. — (June 4, 2019) Tropitone Furniture Company, Inc. debuted three commercial-grade outdoor furniture collections in May 2019. Suitable for both commercial and residential markets, Prime, Trelon and FIT bring curated style and function to Tropitone's unfolding line up of furniture for 2020.
Modern Outdoor Furniture Collections Debuted
The Prime and Trelon groups are the work of renowned designer John Caldwell who is admired for his inspired furniture designs that expertly merge unlikely materials, textures, shapes, and colors.
Trelon is a harmonious pairing of structure and comfort. It's an ode to the classic barrel chair with its curved back and gently sloping arms. The artistic centerpiece of the collection's modern design is the vertical Sunbrella® Strap detail that adds texture and warmth to its simple silhouette. The durable Sunbrella® Strap and cushion fabric can be fully customized to create a color combination that perfectly reflects individual style. The collection includes a cushion dining chair, barstool, lounge chair, swivel action lounger, sofa, love seat, ottoman, and a square and rectangular coffee table.
Prime speaks to today's interest in minimalist furniture for outdoor hospitality and home settings. A series of angled, barrel-shaped frames create the collection's sleek vibe that exudes an effortless cool factor. Its ample cushion seat can be customized with a wide selection of durable outdoor fabrics. The Prime Collection includes a cushioned dining chair, barstool, lounge chair, swivel action lounger, sofa, love seat, ottoman, and a square and rectangular coffee table.
Both collections feature commercial-grade aluminum frames and Tropitone® RE-LAXplus® cushions for the ultimate in comfort and support.
Tropitone® FIT is a fully-upholstered outdoor modular collection that can be configured for any size or shape outdoor space by adjusting the position of its three lounge seating pieces. FIT's unique, weighted back cushions can easily be repositioned to create a myriad of seating options. Its armless, modern silhouette defies the ordinary, lending itself to a simple, clean style. All pieces are fully upholstered with Sunbrella® fabric covers lined with a waterproof backing. The lounge and back cushion fabric colors can be mixed and matched to create a one-of-a-kind style. The collection features seven pieces that can be ordered individually including a 1-seater lounge, 3-seater lounge, 1-seater wedge lounge, right module back, left module back, armless module back, and a curved module back.
"Fit, Trelon, and Prime introductions further show Tropitone's diverse line up of outdoor furniture collections," says Kristi George, senior commercial sales manager for Tropitone. "These collections are an introduction for Tropitone into the fully upholstered and cloth strap categories. These designs have been very well received."
All three collections are a must-see and sit. They will be featured in Tropitone's Suite 1523 at NeoCon: Toast to Fine Design on Tuesday, June 11, 2019, from 3-5 p.m. in the Design Center at the Mart in Chicago. The event will be held during the 51st annual NeoCon commercial design industry show that runs June 10-12 at the Mart. NeoCon registration is required to attend. If you can't make the event, stop by the Tropitone suite at the Mart any time for a personal showing.
About Tropitone
Tropitone manufactures beautifully crafted, time-tested outdoor furniture for the world's most luxurious resorts and hotels; and for residential homeowners who want to re-create the resort experience in their own backyards.
Since 1954, Tropitone has been a leader of hi-quality outdoor furniture and decor. Products are manufactured to a 'commercial grade' for hospitality, multifamily, club, and residential markets. Products are sold nationally through specialty retail stores and are available to the trade. Tropitone is headquartered in Irvine, CA with bi-coastal manufacturing in Irvine and Sarasota, FL.
Tropitone is recognized throughout the casual furniture market industry for its heritage, design, and craftsmanship. For more information and to see the full product line, visit www.tropitone.com