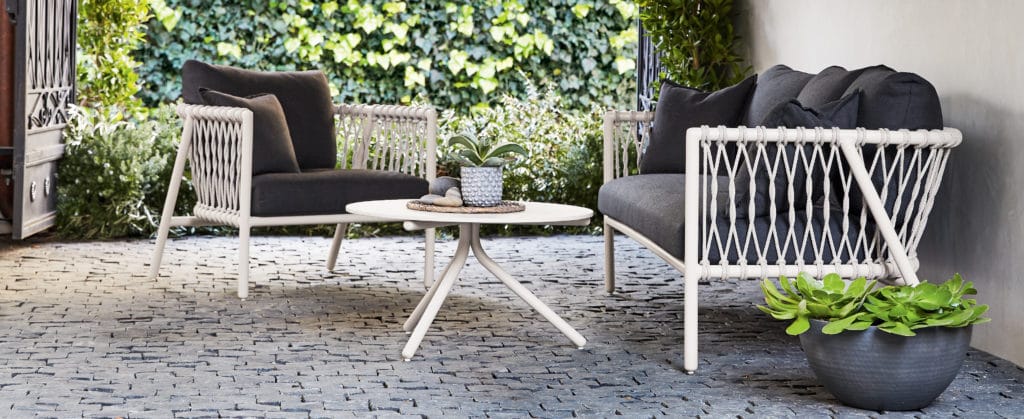 HIGH POINT, NC — APRIL 2019 — Brown Jordan, the American legacy brand of outdoor luxury furnishings, presents new collections at the brand's recently re-designed showroom at High Point Market, April 6-10.
Oscar, a collection designed in collaboration with Ann Marie Vering, offers a sophisticated indoor-outdoor aesthetic and pays homage to the brand's beginnings in 1945 through its materiality, innovation, and craftsmanship. At the show, Brown Jordan will also present additions to the timeless Still collection by collaborator, Richard Frinier.
OSCAR: HISTORY + DEVELOPMENT
In delving into the historic Brown Jordan archives, Ann Marie Vering was struck by the Bronze
Collection by architect Walter Lamb. A mid-century innovator, Lamb looked to the sea and vintage materials as inspiration for a collection. Prototypes for his first collection for Brown Jordan in 1948, called Bronze, were created with salvaged rope, brass and copper tubing from sunken Pearl
Harbor ships. Vering chose rope as a key element for Oscar's seating pieces in tribute to Lamb and his legacy.
Bridging a reference to Lamb's process to her own repertoire of global design references, the rope and curved frame bring warmth and an artisanal quality to the collection. Vering, a talented designer with an international portfolio of hotels and resorts, found inspiration in global floral markets, captivated by textures, shapes and movement of hanging baskets and braided weightbaring ropes.
Multi-dimensional, the rope forms a striking silhouette visible from all sides. Alluring patterns are balanced with angled legs and a handsome frame, confirming Oscar's versatility as a sophisticated furniture series suited for indoors or out. The collection consists of: chaise, benches (two sizes), dining chair, bar stool, lounge chair, sofa, love seat, daybed, rectangular dining tables (three sizes) coffee table (three sizes), end table (round) and side table (round).
Brown Jordan sourced roping that is non-toxic and stain resistant and offered in two tones: Coal, a dark grey, or Pebble, a light grey. At market, upholstery by Sunbrella, made exclusively for Brown Jordan, is presented in two colors: Frost, a light grey, or Castaway, a dark grey. Tabletops are made of Dekton Ultra, a best in class solid surface material by Cosentino. The Oscar tables reveal a first-time collaboration between Brown Jordan and Cosentino, a global leader in innovative surfaces. Crafted from ultra-compact Dekton, surfaces capture the texture and beauty of natural stone and are engineered to endure the elements and withstand the test of time. Tabletops are available in cement-inspired shades of: Fossil, a dark grey, and Keon, a light grey. Powder-coated aluminum for framing and legs, a hallmark of Brown Jordan's coveted manufacturing, completes the collection and is available in either Textured Pewter, a dark grey, or Dove, a light grey.
STILL COLLECTION ADDITIONS BY RICHARD FRINIER
Brown Jordan's award-winning Still Collection, has been a favorite of the A+D community and brand followers since its debut in 2011. Created by celebrated designer Richard Frinier, the collection has been a favorite of the A+D community and brand enthusiasts since its 2011 debut. The collection has been expanded to extend the live-work-play mantra that embodies a contemporary lifestyle. As a veteran designer for Brown Jordan, Frinier was inspired to create this collection with a distinctively modern essence and quiet elegance.
New additions to the Still collection include a sofa, ottoman, occasional table, side chair, bar chair, bar stool as well as a mobile serving console with customized trays. Each thoughtfully designed piece offers duality in purpose and uses for interior or exterior spaces.
The Still sofa is celebrated as a collection standout. Its elegant back creates a dignified, clean-lined background. The raised edges of the sides converge into a seamless design, showcasing the striking Versatex fabric panel, making it ideal for indoor use. This eye-catching piece is destined to be sought after as a locale for entertaining or lounging.
The stylized mobile serving console, striking as a stand-alone element, offers open shelving on two levels. Ideal for serving food or drinks, the moveable console can sit adjacent t furniture and function as a place for setting items down. Hand-crafted accessory serving trays provide a practical design element. The trays may be specified in three shapes—round, square or rectangular —and are available in 21 custom finishes. This piece offers the option to create cohesiveness, complementing Brown Jordan furniture designs and extending the look to any setting.
ABOUT ANN MARIE VERING
With a hybrid portfolio of hotel, furniture and restaurant design, Ann Marie Vering uses a holistic approach to handcraft products and projects from concept to completion. Her education in Architectural Engineering coupled with an artistic background enables a fluency in design. Instinct and perception are key traits upon which she relies. She believes that the best ideas are those created by unexpected experiences. Ann remains immersed in both fields of art and engineering, pulling influences from her extensive travels and keeping an oath to originality and meaning. Her work has been featured in The Wall Street Journal, The Los Angeles Times, Architectural Digest and C Magazine. Each year, she takes on a select number of design projects for top clients.
ABOUT RICHARD FRINIER
Internationally acclaimed, California-based designer Richard Frinier is renowned for bringing the quality of indoor living outside and the balanced nature of living outdoors inside. His extensive travels have inspired his modern and neoclassical designs that may be seen in royal palaces, resorts and private residences around the world. A master of arts and crafts, Richard began his career as a sculptor, artist, furniture and lighting designer. In 1981, he joined Brown Jordan, working for several years with Mid-Century Modern designer emeritus Hall Bradley and staying on for 20 years, becoming chief creative officer and lead designer. In 2002, he returned to private design studio practice where he collaborates with Brown Jordan and other brands. His work has been published extensively and several of his designs for Brown Jordan have remained in continuous production for over 30 years. He has received over 90 design excellence and achievement awards, including an ICFA Lifetime Achievement Award, induction into the American Home Furnishings Hall of Fame, and recently the Top 40 Influencers in the Home Furnishings Industry over the Past 40 Years.
ABOUT BROWN JORDAN
Since 1945, Brown Jordan has designed casual furnishings that defined and transformed an industry. Established by Robert Brown and Hubert Jordan in Pasadena, California, Brown Jordan was the first company to create furniture for full-time outdoor use. The first of these innovative designs, constructed of tubular aluminum and vinyl laces, was fittingly called "Leisure," marking the birth of outdoor furniture. Recognized as a distinguished legacy brand, the company has developed a culture of operational excellence, high quality and continuous innovation over its 70+ year history.
Brown Jordan has won over 50 design excellence awards – more than any other manufacturer in the outdoor furniture industry. The company maintains showrooms in major U.S. markets, including Chicago, Costa Mesa, Dallas, Los Angeles, Miami, San Francisco, and Scottsdale. For more information on Brown Jordan products or to find a certified dealer, call: 800-743-4252 or visit: www.brownjordan.com.